Qi Certification Services

As a fully accredited Qi test facility, UL offers comprehensive certification services for wireless charging devices seeking the use of the Qi logo.
.
The latest advances of wireless charging deliver a whole host of benefits to consumers – but they also mean additional testing requirements for the manufacturer.
Qi certification by an accredited laboratory is a mandatory requirement for devices wishing to use the Qi logo.
.
UL is the only company in Japan accredited by the Wireless Power Consortium (WPC) to offer full Qi certification for wireless charging devices.
.
What is Qi?
.
Developed by Wireless Power Consortium (WPC), "Qi" is the international interoperability standard for wireless power transmission system with an electromagnetic induction system.
.
Qi-certified products can be charged with any types of Qi-certified rechargers, irrespective of the manufacturers. Thus, it offers greater convenience for consumers who will no longer need to carry separate rechargers for each of their devices.
.
UL Certification Process Overview
In order for manufacturers to gain the use of the Qi logo, full certification must be undertaken, which includes both compliance and interoperability testing. As a fully accredited laboratory UL Japan covers both, helping to make sure that products are fully compliant and market ready.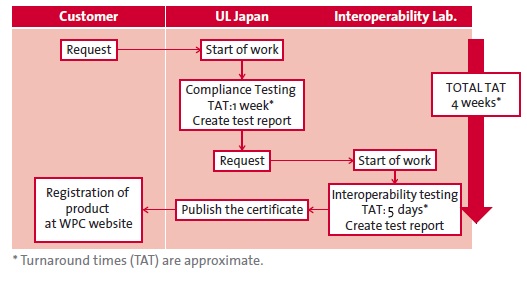 Contact Information
.
Related Documents